Current Edition – Johnson County Living
Johnson County Living magazine will be published twice per year and distributed all throughout Johnson County. We will produce each edition with exceptional quality and content to become long-lasting, coffee table-quality magazines. If you would like your very own printed copy please visit one of our advertiser locations.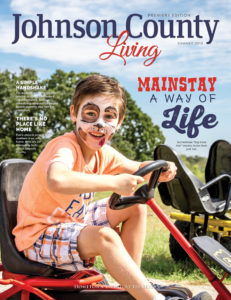 Each magazine will be printed on high quality thick paper stock to give it a better feel and increased thickness. The spine of each publication is perfect-bound to resemble a book, and to hold together for many years to come. The covers are UV tinted to withstand exposure and maintain a quality our readers have come to expect.
Editions of each publication will be proudly displayed throughout businesses, professional waiting rooms and state legislative offices around the area. Being area-specific, the content within the pages of each publication is sure not to become dated or out of style. Residents from our other areas have stated that each of their editions have become a legacy, holding information about its people and events that one can reflect on and show for years to come.
Johnson County Living magazines will also be given out in both newcomer and visitor packets for those moving to and visiting Johnson County. Our goal is to get editions in the hands of all, and not just target some social circles. We'll be adding an online flipbook edition so you to can have the opportunity to flip through the pages of Johnson's premier publication. We'll be adding past and future editions to the website to archive and digitally secure Johnson County Living magazine for future generations to enjoy.
We would like to say Thank You for all those who'll be making Johnson County Living possible.  We look forward to bringing you the first, and many more editions for years to come.  Please let us know if you have any article suggestions, or have an event you'd like featured in the pages.  Please include your contact information, as well as your article submissions contact information.
FEATURED ARTICLES
---
Cleburne built it, and boy, did they come.
After a blank-slate inaugural season in which the Cleburne Railroaders – independent professional baseball team – drew more than 100,000 fans, and welcomed various big-name special guests to The Depot, the club is building on that momentum heading into its second year.
Whatever it may have been; winning Ballpark Digest's Best of the Ballparks competition or having pitching coach Ed 'Smoke' Pruitt feature on both ESPN's 'SportsCenter' and MLB Network's 'Intentional Talk' by becoming the oldest player in league history, Cleburne had it for the opening season.
Now, it's just a matter of moving forward.
"I'm really looking forward to 2018," Pruitt said. "I'm excited to work with this pitching staff and help all of the players develop and get back to where they belong, but I also know that we'll have a chance to work through the bugs from last year and become a playoff-caliber team in 2018 – both on and off the field."
The Railroaders shattered attendance expectations in 2017, averaging over 1,700 fans per game in a stadium with 1,750 seats – a virtual sellout. And while it isn't easy to replicate that success, Cleburne's already determined to reach new and exciting levels in 2018.
---

Mainstay – A Way of Life
What if you could blend the excitement at the beginning of a movie, the big sounds, big sights and just the feeling of knowing that something incredibly special was going to happen with visiting a place that makes time stand still.
Would you do it?
What if that place was right in your back yard? Well, it is! It's Mainstay Farm Park and it is located right here in Johnson County.
For more than 29 years, Marianna and Jim Wilson have nurtured, grown and turned what started out as a Christmas tree farm into an experience of a lifetime. With the desire to raise their family in the country, they began to look for property and admit that, initially, they didn't know what they were looking for. They found a little gray farmhouse that was attached to 36 acres and saw their vision unfold before their eyes.
They firmly believe with all certainty that prayer led them to both the property and its name. As God made the way clear for them, they learned that a mainstay is a stake that is used to hold up a tree. Both Marianna and Jim knew that this was confirmation from God because He is the mainstay of their lives. The name, Mainstay Farm, is based on Scripture.
---
A Journey in Beauty
The inspirational story of Brittney Sullivan of Joshua is about choosing life and love. It's about perseverance and determination. It's about a young business woman, wife and mother of three who has chosen to pick herself up, dust herself off and put on and thrive. She's been assigned a mountain and with her faith, she intends to show others she can move it.
On the morning of January 17, just six months ago, Brittney Sullivan started her day just like every other day. She was standing in her bathroom, getting ready for work and curling her hair. The next thing she remembers is waking up to her children and parents standing over her, telling her that they were taking her to the hospital. It wasn't until they got to the hospital that she would fully understand what had happened to her: while curling her hair, she had an epileptic seizure and fell, face down, on the curling iron.
At the hospital, doctors discovered that in the 15-30 seconds she was unconscious, face down on her $15 curling iron, she sustained third degree burns on her eye, cheek and lips. She was told there was nothing they could do for her and sent her home with orders to come back to the burn unit in one week. When she returned to the hospital a week later, she was immediately admitted.
---
Red, White and Weights
Isabella Weatherby is a petite 130 pounds, but don't let her size fool you–she is strong enough to work out with Team USA. In high school, she set records at state and nationals for squats and total weights and is no stranger to the MVP award at power lifting meets. But you would probably never know any of this if you met her. In addition to being humble, it would be hard for her to focus on just talking "power lifting" with you as she has a love for all things sports. Volleyball captain, power lifting captain, FFA officer, cheerleader, soccer team, track, National Honor Society and Student Council president top her résumé and somehow, she found time to study and graduate third overall in her class this year and work part time.
"When I was younger, I competed in a lot of sports. I started with dance and then kept going from sport to sport and never stuck with just one. I even remember trying to play football, but my mom wouldn't let me," she laughed, "My parents knew athletics were my 'thing' and let me play and have a good time with it, but when I entered 7th grade, I knew I wanted to compete for my school." As you can imagine, Isabella's schedule didn't allow for much sleeping time and her parents didn't allow for low grades, which kept her motivated to study or she knew she would have to cut sports out of her schedule. Her high school days started with a 6:30 a.m. work out, then class, a lunch break that Isabella used as study time, then 8th period Track, followed by track practice after school, soccer practice and finally power lifting practice to end the night. The weeks were always filled with track meets on Thursday night, soccer games on Friday nights, power lifting meets on Saturday, and after church on Sunday she would head to a private facility for power lifting training.
---