Current Edition – Johnson County Living
Johnson County Living magazine will be published twice per year and distributed all throughout Johnson County. We will produce each edition with exceptional quality and content to become long-lasting, coffee table-quality magazines. If you would like your very own printed copy please visit one of our advertiser locations.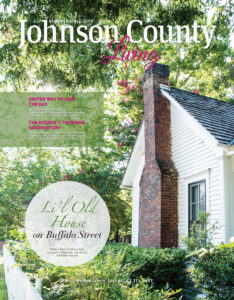 Each magazine will be printed on high quality thick paper stock to give it a better feel and increased thickness. The spine of each publication is perfect-bound to resemble a book, and to hold together for many years to come. The covers are UV tinted to withstand exposure and maintain a quality our readers have come to expect.
Editions of each publication will be proudly displayed throughout businesses, professional waiting rooms and state legislative offices around the area. Being area-specific, the content within the pages of each publication is sure not to become dated or out of style. Residents from our other areas have stated that each of their editions have become a legacy, holding information about its people and events that one can reflect on and show for years to come.
Johnson County Living magazines will also be given out in both newcomer and visitor packets for those moving to and visiting Johnson County. Our goal is to get editions in the hands of all, and not just target some social circles. We'll be adding an online flipbook edition so you to can have the opportunity to flip through the pages of Johnson's premier publication. We'll be adding past and future editions to the website to archive and digitally secure Johnson County Living magazine for future generations to enjoy.
We would like to say Thank You for all those who'll be making Johnson County Living possible.  We look forward to bringing you the first, and many more editions for years to come.  Please let us know if you have any article suggestions, or have an event you'd like featured in the pages.  Please include your contact information, as well as your article submissions contact information.
FEATURED ARTICLES
---

Lil' Old House on Buffalo Street
In the mid-1800s, soldiers rode from Fort Belknap to Fort Graham, down the old wagon trail, and slid off their horses at the watering stop. Others rode in on the stagecoach. All stopped at Buffalo Creek. The lush flora and cool spring water lured many a traveler to linger, enjoy a slower pace and stay to build a home, a life.
During the War Between the States, this location became a bivouac for Johnson County units, known as Camp Henderson. This temporary facility became a permanent settlement on March 23, 1867, and a new, centrally located county seat. The land originally deeded to Christopher Channy was transferred to Colonel B.J. Chambers, the father of Cleburne in1867. Then it was divided into town lots to be sold.
Soon a post office popped up in a corner of the general store. The first edition of the Cleburne Chronicle rolled off the press on November 7, 1868 and commented on the rapid growth of Cleburne. During this time period the railroad arrived, and by 1870 the population grew to 683.
Footbridges soon spanned Buffalo Creek so folks could meander over to enjoy ice cream socials at the 1871 Episcopal Church. Sweethearts strolled down Henderson and Main Streets to buy penny candy and browse the latest merchandise in the store windows. At that time Buffalo Street was the "road into town". The Lil' Old House at 409 Buffalo Street was built within "water-totin" distance of the creek, and not far from the town's public well.
---

Cleburne High School—A New Beginning
What has quickly become one of the area's most-visited sites is the new home of the Cleburne High School Yellow Jackets.
 The new academic campus was built in front of the former school, which is now under renovation. It has both the features and "feel" of a junior college, according to both architects and visitors who have toured the school since its opening in January.
Classrooms with lots of natural light designed for collaborative learning, a two-level cafeteria with a coffee bar, an enclosed courtyard—a popular student lunch spot no matter the weather—combined with new athletic facilities and enhanced career and technical education facilities are among the features of the new CHS. More than 35 "break-out spaces" for small group projects and individual study are found throughout the campus, including two most favored by students, overlooking the foyer from the second floor.
The classic facade of the campus pays homage to the Cleburne High School of 1919, which now serves Johnson County as the Guinn Justice Center. Touches of Cleburne's heritage are also reflected in the foyer of the CHS of 2019, highlighted by the second floor "trestle" catwalk recalling the decades-long presence of the Santa Fe Railroad in the community.
---

The Eugene V. Thomsen Observatory
There is a pretty popular song that boasts about how big and bright the stars over Texas are. And throughout our state's history, many a man and woman have decided to call this land home once they laid on their backs and stared up at a clear night sky. Yes, the stars can be seen from anywhere, but they just seem to be a little bigger, and a little brighter in the Lone Star State. Some might even call them…Texas sized.
For as long as our great state has existed, people have stared into our wide skies and marveled at the beauty that lay beyond our world. From the Big and Little Dippers, to Orion's Belt, to the North Star and countless other twinkling wonders, there is no shortage of fascinating views, if you only look up.
And for those who love to study the stars, and get a closer look at them, there are many resources to do so. One such resource here in Johnson County, is the Thomsen Observatory, located at Southwest Adventist University in Keene, Texas. Named after Eugene V. Thomsen, a highly regarded language professor and former academic dean, the observatory was founded in 1984 and funded by alums such as Dennis and Connie Dickerson.
Under the direction of a physics professor, Roy Campbell, countless observers came to the observatory to see the stars through a 20" Ritchie-Cretien reflecting telescope. Though a small town, Keene drew many scholars, star-lovers, and school groups—all enamored with the universe and its many wonders.
---

Dudley Hall – Opulent Theatre Meets Professional Entertainment in the Round 
Excited to have tickets to see a musical production and knowing the excellent quality of entertainment at Plaza Theatre Company, I recently arrived at the Plaza early with plans to grab lunch and capture a great seat for the Saturday afternoon matinee. I talked with Aaron at the Main Street Box Office and discovered my tickets were for the Plaza Theatre Company's production at Dudley Hall.
A few short blocks east on Anglin Street, I pulled into easy-access parking and stepped into opulence.  Past the wide plush entry, with vaulted ceilings and elegant lighting, past the luxurious waiting area, I took a brief stop at the spacious, beautiful ladies' room. Then I stepped into the theater.
"Wow! Just wow!" The intimate theater-in-the-round stage transported me into theater magic. Dudley Hall features eleven shows and over two-hundred performances annually. At the box office, I found familiar faces—JaceSon Barrus and his father, Jace, whose height and build would be more at home in the gym than a lavish theater, gave me the grand tour.