Current Edition – Johnson County Living
Johnson County Living magazine will be published twice per year and distributed all throughout Johnson County. We will produce each edition with exceptional quality and content to become long-lasting, coffee table-quality magazines. If you would like your very own printed copy please visit one of our advertiser locations.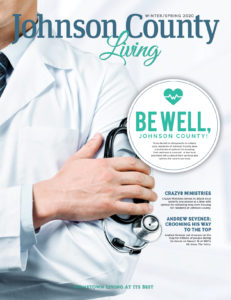 Each magazine will be printed on high quality thick paper stock to give it a better feel and increased thickness. The spine of each publication is perfect-bound to resemble a book, and to hold together for many years to come. The covers are UV tinted to withstand exposure and maintain a quality our readers have come to expect.
Editions of each publication will be proudly displayed throughout businesses, professional waiting rooms and state legislative offices around the area. Being area-specific, the content within the pages of each publication is sure not to become dated or out of style. Residents from our other areas have stated that each of their editions have become a legacy, holding information about its people and events that one can reflect on and show for years to come.
Johnson County Living magazines will also be given out in both newcomer and visitor packets for those moving to and visiting Johnson County. Our goal is to get editions in the hands of all, and not just target some social circles. We'll be adding an online flipbook edition so you to can have the opportunity to flip through the pages of Johnson's premier publication. We'll be adding past and future editions to the website to archive and digitally secure Johnson County Living magazine for future generations to enjoy.
We would like to say Thank You for all those who'll be making Johnson County Living possible.  We look forward to bringing you the first, and many more editions for years to come.  Please let us know if you have any article suggestions, or have an event you'd like featured in the pages.  Please include your contact information, as well as your article submissions contact information.
FEATURED ARTICLES
---

A Girl and Her Crown
Once, we were little girls with a love for anything that shimmered and shined, especially a crown. However, the movies taught us that to have our crown, it usually involved a prince climbing up and tangling our just washed and blow dried long, golden locks, to hand deliver our crown with a kiss.
We may be older but we are still the same girls. We still like our crowns. Except now, girls all over America are learning that a crown shines brighter when it is earned based on work ethic and a love for humanity. One of these particularly wise young women happens to be our very own local Junior Miss Junior Miss of Chisholm Trail, Kelsey Harris.
The only child of Josh and Kelly Harris, 14-year-old Kelsey is currently a Godley High School freshman. While learning to tackle the ups and downs of being a teenager, Kelsey has managed to simultaneously conquer academics, athletics, FFA, volunteering within her community and the pageant world.
"As parents, we know the craziness that can come with being a teenager & how important it is to keep them busy." explains Kelsey's mother, Kelly. "We absolutely want to pull our hair out often from running around everywhere with school functions, sports, stock shows, volunteer work, etc. but we have done these things knowing that these activities have helped guide her into the young lady she has become."
Kelsey's love for pageants began at a young age. When her Nanny, who Kelsey identifies as her biggest role model, bought her no less than 5 dresses each Christmas, Kelsey used every night she stayed over as the perfect opportunity to reenact her love for all the pageants she grew up watching and adoring.
"Nanny would introduce me to the 'audience' and then I would model through the living room like it was my very own stage." recalls Kelsey. "She would ask me questions and pretend to interview the future Miss America."
---

Dedication, Grit and Determination
In July 2019, a relatively unknown skeet shooter quietly stalked his competition at the International Shooting Sport Federation Junior World Cup in Suhl, Germany. Conner Prince was so new to the international skeet scene at that time the ISSF didn't even have his photo or bio on its website. That quickly changed when the 19-year-old college sophomore bested a field of 60 by shooting a near-perfect round in the finals and emerged as the Junior World Cup Gold Medalist in Men's Skeet.
When Conner tells people he shoots skeet, they typically say one of two things: "What is skeet shooting?" or "Oh, I've been out to the range to shoot a few times myself." Regardless of the reaction, people have no idea the dedication, grit and determination it takes to get to such an elite level of competition.
A lifelong resident of Burleson, Conner tried baseball and soccer during elementary and middle school, but neither held his interest for very long. When it was time for high school, Conner's parents, Greg and Becky, wanted him to join some type of student group. During the 2014 freshman camp at Centennial High School, Greg and Conner found a group that would impact the Prince family in profound ways. Greg and Conner had gone out a handful of times to shoot sporting clays at a local range, so when they saw two members of their Pathway Church family at the Spartan Clay Target Team table, they wanted to learn more about the high school shooting teams.
"Because we knew so little about the sport, I started practicing the summer before my freshman year," Conner said. I knew I would need time on the field to be competitive, but I had no idea just how much time it would take."
---

The Eugene V. Thomsen Observatory
There is a pretty popular song that boasts about how big and bright the stars over Texas are. And throughout our state's history, many a man and woman have decided to call this land home once they laid on their backs and stared up at a clear night sky. Yes, the stars can be seen from anywhere, but they just seem to be a little bigger, and a little brighter in the Lone Star State. Some might even call them…Texas sized.
For as long as our great state has existed, people have stared into our wide skies and marveled at the beauty that lay beyond our world. From the Big and Little Dippers, to Orion's Belt, to the North Star and countless other twinkling wonders, there is no shortage of fascinating views, if you only look up.
And for those who love to study the stars, and get a closer look at them, there are many resources to do so. One such resource here in Johnson County, is the Thomsen Observatory, located at Southwest Adventist University in Keene, Texas. Named after Eugene V. Thomsen, a highly regarded language professor and former academic dean, the observatory was founded in 1984 and funded by alums such as Dennis and Connie Dickerson.
Under the direction of a physics professor, Roy Campbell, countless observers came to the observatory to see the stars through a 20" Ritchie-Cretien reflecting telescope. Though a small town, Keene drew many scholars, star-lovers, and school groups—all enamored with the universe and its many wonders.
---

Dudley Hall – Opulent Theatre Meets Professional Entertainment in the Round 
Excited to have tickets to see a musical production and knowing the excellent quality of entertainment at Plaza Theatre Company, I recently arrived at the Plaza early with plans to grab lunch and capture a great seat for the Saturday afternoon matinee. I talked with Aaron at the Main Street Box Office and discovered my tickets were for the Plaza Theatre Company's production at Dudley Hall.
A few short blocks east on Anglin Street, I pulled into easy-access parking and stepped into opulence.  Past the wide plush entry, with vaulted ceilings and elegant lighting, past the luxurious waiting area, I took a brief stop at the spacious, beautiful ladies' room. Then I stepped into the theater.
"Wow! Just wow!" The intimate theater-in-the-round stage transported me into theater magic. Dudley Hall features eleven shows and over two-hundred performances annually. At the box office, I found familiar faces—JaceSon Barrus and his father, Jace, whose height and build would be more at home in the gym than a lavish theater, gave me the grand tour.